The Advantages Of Installing A Ceramic Coating
Ceramic coating your vehicle's paint or gel coat is locked in so it stays looking its very best and adds a layer of protection. You would never have to remember that it's time to wax your vehicle again. You can have peace of mind knowing your vehicle is protected against things that may damage your paint like bugs, rock chips, and swirling caused by normal washing.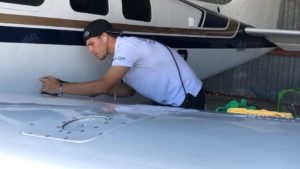 Most wax, needs to be applied twice per year at an average of $250 a detail can add up quick because wax sealants and consumer coatings will only last you 6 months at best.  Within 3 years it will cost you $1500 and numerous hours without your vehicle.  With a Ceramic Coating your paint won't fade or age due to the UV protection in the glass coating.  Any surface scratches that happen in the ceramic coating are easily removed with light polishing which will not weaken the integrity of the original clear coat.
Glossy, slick, and self-cleaning, this nano technology allows the Ceramic nanoparticles to fill the smallest pores in the paint which makes the Ceramic Coating shiny, smooth and extremely slick or hydrophobic. Ceramic Coating dramatically lowers the surface tension preventing environmental contaminants such as: bird droppings, bugs, dirt, tar and graffiti paint from bonding to the surface. Water easily removes dirt from the surface by encapsulating it while rolling off the surface. This is called the self-cleaning effect.
Contact Us Today & Book A Ceramic Coating Appointment!
Reasons to Ceramic Coat Your Vehicle
Ceramic Coating is engineered to enhance factory paint by increasing its resistance to scratches and contaminants while delivering gloss for years!